Featured Student: Joe Donaher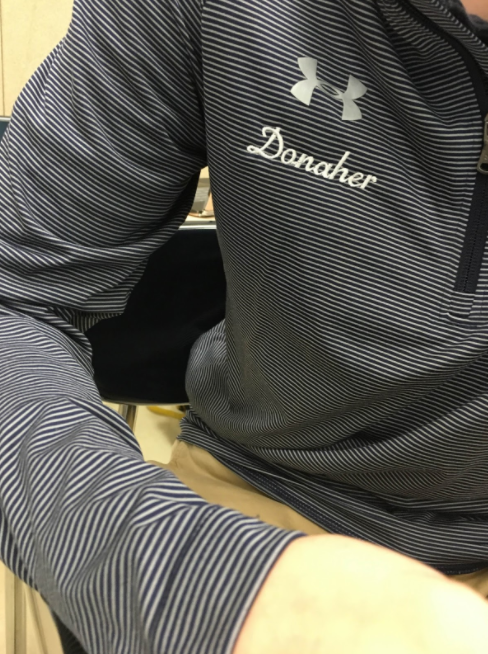 Joe Meade, Staff Writer, University of Michigan Expert
February 1, 2017
I had the privilege of interviewing Joseph Donaher, a freshman at Oratory Prep. In his introductory year, Joe has been involved in many activities, most notably cross country and freshman basketball.
To give a little background of who he is, Joe attended the Immaculate Conception School in Annandale prior to studying at Oratory. He is a busy man, which is why I was lucky to even get an interview with him. But, there is a twist. My dodgeball team will be playing Joseph's in the first round of the annual OP dodgeball tournament. So, I decided to make this an interview/confrontation in preparation for our face-off.
Q:Hey Joe, how is your first year going?
A: Great, I am having a good time and the people here are great.
Q: What is your favorite part about Oratory?
A: The people around the school. The schedule is also nice because it helps relieve stress so we have two nights to do homework.
Q: You have been a busy man with cross country and basketball, how do you find time to do all your work?
A: I try to use every moment of free time I have, CWP is a great resource which lets me get some last minute work done.
Q: What is your favorite part about the new building?
A: Once we get hot food, the kitchen will be a fantastic addition to our campus.
Q: What is your favorite food?
A: Chinese food has to be my favorite.
Q: Are you in the dodgeball tournament?
A: Yes.
Q: Are you aware that your team is playing mine in the dodgeball tournament?
A: I am.
Q: Do you think your team is gonna beat mine?
A: I believe so. We will probably beat you because we have a lot of very athletic freshmen on our team.
Q: You do realize my team is going to win?
A: Probably not.
Q: Want to make a bet?
A: Sure.
Q: What do you want the bet to be?
A: The loser has to buy a lemonade a day for the winner, for a week.
Q: Deal.
A: Let's shake on it.
While the firm grip I got from Joe almost broke my hand, it did not break my confidence. I have full faith that I will be sipping on some cold lemonade all of next week.