Analyzing the Six Man Rotation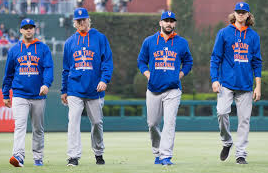 As pitchers and catchers are set to report in less than two weeks, many teams are anticipating to try to set in stone their starting rotations. Many teams have spots up for grabs that will most likely be determined by Spring Training success. Some teams have more pitching depth than others where all of the candidates are viable and would have success should they earn a spot. Having extra depth is a great problem to have. The Mets, Cardinals, and others all have extra depth especially with the emergence of young starters down the stretch last year. They truly have six (possibly more) guys that can fill any starting rotation. The Mets have Jacob DeGrom, Matt Harvey, Noah Syndergaard, Zack Wheeler, Steven Matz, Seth Lugo, and Robert Gsellman. In addition, the Cardinals have seven possible starters in Carlos Martinez, Adam Wainwright, Anthony Reyes, Mike Leake, Michael Wacha, and Lance Lynn. It's a good problem for both teams, and tough choices will be made to trim down the rotation. Those who do not make the cut will be sent to the bullpen for long relief or down to the minors to start.
Should teams like these two consider six-man rotations? Recently I read an article that said that the Cardinals should adopt this approach, and I believe that it could yield positive benefits for the team since they have six quality starters but no clear ace (Martinez and Reyes may be a step ahead, but outside of them everyone is pretty even). Their brand of somewhat evenness could be broken up over the course of the season. Instead of picking who will be the top pitchers at the end of simulated games, the team would have the entire season to gauge its top starters for the playoffs. For a team like the Mets, an even greater proponent of this change would result from previous injuries to their young arms. A six man rotation would take off about 30-50 innings per pitcher (compared with a five man rotation), having a much less taxing toll. This is important, especially in aiming to keep pitchers rested to avoid wearing down in August and the postseason. Continuing, if a pitcher were to get injured, it is very easily to adapt back to a five-man rotation from here without relying on a pitcher from the minors or trying to extend a guy from the bullpen.
However, there are many factors often keeping teams away from six-man rotations. Specifically, if a team has a true ace, they will want them on the mound every fifth day, giving them the best possible chance to win. A six man rotation would dilute their effect and can be bad for the star's numbers. With players getting incentives for awards and stats, some will oppose the idea. Also, a six-man rotation may mess with a pitcher's routine. Pitching every five days for years, the pitchers will develop routines that they have in between starts: throw a bullpen on this day, rest on this day, focus on mechanics on this day, etc.. People do not like the change to a routine and major league pitchers are no different.  
Theoretically, six-man rotations are a management's' way of looking long term with their pitching staffs. They aim to keep their guys healthy and productive for a postseason push. On the other hand, many players oppose it because it interferes with their job of being out on the mound as much as possible. They want to be pitching and helping their time, and a six-man rotation makes this less frequent and also changes their routine. Only time will tell to see how these teams settle these fortunate "problems."
Image Credit: http://www.bloggingmets.com/26855/mets-six-man-rotation-a-bad-idea/