An American Family, the Vita's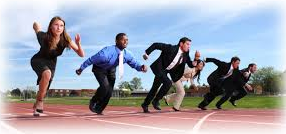 Picture this scene: It's the early hours of the morning in Denville, NJ. The Vita family is on their way to vote. Probably traveling slightly above the speed limit, they are heading to the library to cast their vote for the next president of the United States. This group of patriotic Americans is committed and persistent. They wanted to be out there in the early hours of the morning to be the first to cast their vote. In fact, his parents cast the 2nd and 3rd vote in the district on election day. The 1st vote was another committed voter from across town, who weathered the cold morning temperature waiting for the door just a minute or two before they arrived. Every year, the family, along with their friends and neighbors, take pride in their election choice, and this year was no different.
The lead-up to this election has produced many gatherings of these avid supporters. They tuned into every debate, flew American flags high over the streets, and held parties throughout the primary and general elections. They grew in numbers and became more and more excited as November 8th came closer.
On election day, they knew it was going to be a big day. Even though pre-election polls would suggest otherwise, a miracle could happen, making Donald Trump victorious. The big pre-election debate pertained to how many "silent voters"  — voters who did not express their choice outright beforehand  — Trump would get. Likewise, Hillary would be reliant on many millennials and minority voters. It would be an interesting counterbalance, but early reports suggested that Hillary would win, claiming the votes in the large urban centers.
That evening the TV was on as soon as coverage began at 5pm. They watched the previews and awaited results throughout the night  — Corey had a prediction for the election long before it began.
Corey stayed up until 4am, almost a 24-hour shift from when his parents got up to begin their journey to vote, waiting for the announcement to become official and the next president to give their speech to the nation (or whoever remained awake at that point). When he went to bed, it had been decided. America was in great hands and would become great again. Overall, it was a HUGE day for any American, whether or not they wanted Trump to win.