Oratory XC Finishes Historical Season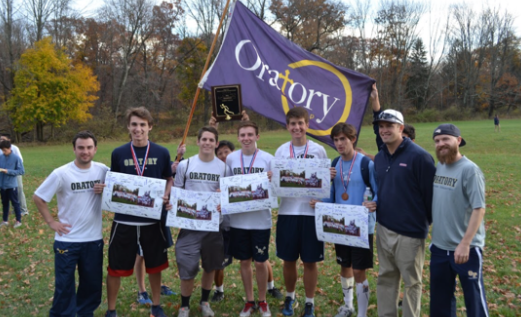 On Saturday, the Oratory Cross Country team capped a fantastic season with a ninth place finish in the non-public A race at states. This mark surpassed the team's success last year, two years removed from being bumped up to the more competitive non-public race. The team average on Saturday, a 17:48 mark, eclipse the school's previous best of 18:01 at the grueling state course of Holmdel. This capped off what was perhaps the best season Oratory has ever witnessed in the world of cross country.
The biggest key this year was probably the team's depth. 25 of the team's 46 runners finished the season with a time below 20:00, and the team was able to survive without returning varsity runners. As a whole, the team really stepped up and pushed one another, stemming from strong senior leadership from captains Brendan Mooney and Adam Lewis.
The team's success can be seen in the championships they acquired. Both JV and Varsity won their respective races for the Greystone Invitational in late October. Later, the varsity boys would easily defeat rival New Prov and win the conference. Finally, in CTCs, the varsity team would win their small school division, for the third consecutive year.
Improved times demonstrated the strides this team made throughout the season. Entering the season with four new varsity runners competing in their first meet, this season was to be one of great experimentation, but it proved to be much more. By the end of the year, a top seven of Mike Cantaluppi, Fernando Aviles, Casey McKee, Addison Drone, Eric Rhines, Corey Vita, and Brendan Mooney (Jake Noss got injured along the way) would produce school record times. The team would set its best average during counties at an average time of 17:36. The following week, that average would be improved at CTCs, dropping to 17:23. The team was led by Mike Cantaluppi who himself bested two OP course records at Greystone (16:44) and Holmdel (17:10).
Looking to next year, the team looks to be even better. Six of the seven guys running varsity at the end of the year will return, and there are plenty of young runners right behind them. Jake Noss and Liam Watkins, both very capable runners who have run varsity before, will also be fighting for spots. The future is bright for Oratory Cross Country and next year might well be better than this one.