OP Alumni Interview – Dimitri Drone '86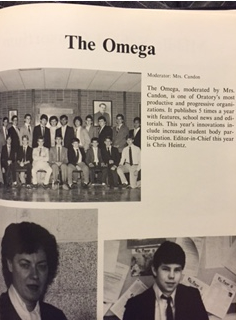 This week, I interviewed OP alum Dimitri Drone (Class of '86), my dad and current board member. Associated with the school for years, he has seen the evolution of the school. Now with the construction of the new building, the school is being further pushed in this period of expansion. However, it is important to maintain our roots, and although only thirty years ago, my dad went to this school, plenty has changed.
In what ways do you feel the school has further advanced since your time at the school?
There have been advances across virtually every dimension – such as the value of an Oratory education, the various athletic programs, the facilities, and the quality of the teaching.  Altogether, I would say the school has advanced by continuing to uphold its values and beliefs and prepare our young men to continue to be upstanding members of society in what has become an extremely complex, challenging world.  
What part of the OP culture has been maintained as multitudes of young men have passed through the school?
As mentioned above, the men of Oratory continue to be upstanding members of society.  This is a direct result of the commitment by the school, faculty, and administration.  The men of Oratory have a mutual respect for each other, as well as themselves, which starts with their upbringing and is reinforced during their formative high school years.
Who was your favorite member of the faculty? How did they shape the Oratory Prep experience?
I had two.  Father Manning taught me Math, French, and Latin, and Mr. Fava taught me English.  Father Manning had such a command of the class; you wanted nothing more than to excel in his class.  It was contagious as my fellow classmates felt the same way.  And Mr. Fava was part teacher, part comrade  — so easy to hang out with after class.  Both of these individuals contributed to my Oratory experience that positively affected me for life.
How was an OP education able to prepare/help you later in your life?
In my opinion, the Oratory experience is one that enables each one of us to embrace ourselves for who we are. Whether you are smart, athletic, funny and so on – your time at Oratory teaches that it is fine to just be you, whatever that may be.  And with that self-confidence, you can go out and face whatever challenges may lie ahead.
With the construction of the new building, in what ways do you think Oratory will be able to advance?
For starters, the boys will be able to eat a hot meal and have gym indoors again.  Kidding aside, the state of the art facility will enable the men of Oratory to be on par with any school in our area.
What is most exciting, in your view, about the future of Oratory?
That even with all of the change around us, we continue to be the same school with the same mission at our core.