Rising Questions on the 2016 Election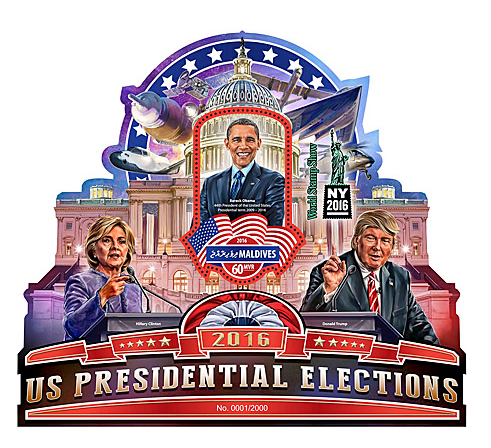 Hang on for a minute...we're trying to find some more stories you might like.
As I wandered the floor of the World Stamp Show that is going on this week at the Javits Center in New York, I stumbled upon the booth of the postal administration for the Maldives. Normally, this country would not attract my attention or even attend a show in New York, but this year it certainly did. In plain sight was their newest stamp issue, dedicated to American politics, proudly broadcasting a Trump vs. Hillary election.
This, dear readers, is not too far from the truth. Just a couple days ago, the American people received official confirmation that Donald Trump would be the Republican Party nominee. Hillary Clinton is less than one hundred delegates away from receiving her nomination. Yet Bernie Sanders' top strategist insists that neither candidate will have the necessary delegates for the nomination. This, his so-called victory strategy, was described by math professor as "very improbable".
On the Republican side, party disunity threatens to undermine Trump's whirlwind presidential bid. As has been reported for the last couple weeks, despite Trump's win-by-default and his confirmation as such this week by his primary victory, Paul Ryan still refuses to support Trump for President. It has been reported that, to combat Trump, those conservatives may try to field a third candidate for President. The last time this was attempted was the 1836 election of Martin Van Buren, where the Whig Party fielded three candidates but failed. Areas whose populace would vote for a Republican candidate threaten to become battleground areas, which may deliver a Clinton presidency to the American people. Take Miami-Dade County, Florida, home to a strong base of conservative-leaning people of Cuban ancestry who refuse to endorse Trump due to his anti-immigrant rhetoric.