Featured Teacher: Mr. Plagge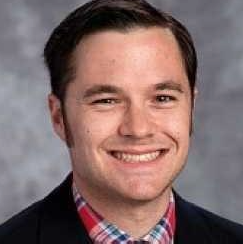 Justin Oei, Writer
November 19, 2014
A relatively new addition to Oratory's staff, Mr. Plagge, not only teaches music appreciation but also speaks German and French and plays nearly every instrument known to the western world. I was lucky enough to be able to sit down with him during a recent morning and be able to interview him.
Mr. Plagge is a graduate of Scotch Plains/Fanwood High School. He was first influenced to teach music by his own music teacher at Scotch Plains. He remembers that the teacher put so much passion and enthusiasm into the subject matter. Plagge directly recollects a 2006 video of the Scotch Plains High School's marching band, as multiple members of the band went on to become band teachers. He went on to obtain a degree from the The College of New Jersey in music education.
He joined Oratory four years ago teaching Music Appreciation and Band. Every year, he enters the band in the Six Flags "Music in the Park" competition. This contest includes the band members heading down to Six Flags in Jackson Township and performing in an adjudication session in front of nationally acclaimed musicologists. Our school band has been improving our rankings annually, and Mr. Plagge expects us to keep accumulating trophies. Mr. Plagge said that "The band [this year] is already better than last year," and that he expects us to "bring home more trophies". As a student in his Music 8 class, I asked him who his favorite composer that we will be studying is and he responded with, "Tchaikovsky".  In addition to teaching our music tract of courses, he serves as the assistant golf coach. Like the OP Band, the OP Golf team is on the rise and Mr. Plagge has high hopes for this years' team. Outside of Oratory, Mr. Plagge serves as a cornet player for the Princeton Brass Band. In regard to hobbies, he enjoys rooting for the Rangers and Mets.
As evidenced above, Mr. Plagge is one of the most important and interesting teachers here at OP. We encourage you to stop by the music room and introduce yourself if you haven't had his classes yet.