Tough End to OP's Inaugural Freshman Soccer Team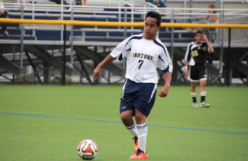 Hang on for a minute...we're trying to find some more stories you might like.
John Abilli
In the last game of the season, Oratory Prep's freshman soccer team went up against Hanover Park, the first team they played. Hanover struck first with a nice through ball to one of their strikers to get a 1-0 lead. They continued playing through balls the whole half, and got themselves to a 3-0 lead by halftime. Going into the second half, Oratory could not get much possession of the ball, and their passing was also lacking. With some more through balls, Hanover scored four in the second half to finish the game. Although going out on a low note, Oratory Prep's freshman team left the game in high spirits after a good final week. Next year, if there are enough numbers for a freshman team, OP will be looking to improve on this past season.