Oratorians lead another successful Open House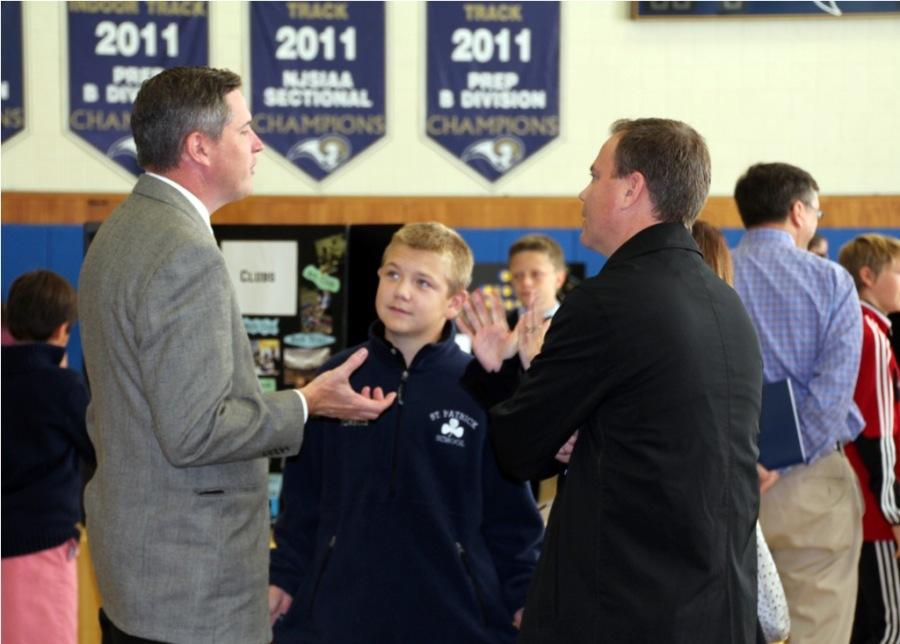 Jack Skinner, Writer
October 8, 2014
Jack Skinner, Staff Writer
Sunday, October 5th, was the Oratory Open House. Prospective students from many surrounding communities traveled up to Summit, NJ, to visit the school. Upon entering, they were greeted by the admissions staff, headed by Mr. Boniello, who led the prospective students into the gym. There, they gazed upon the vast ocean of Oratory's academic fields, clubs, and sports. Representatives of each endeavor, dressed in ubiquitous jackets and ties, spoke to the prospective students and gave them personal insight into the inner workings of their organizations. The OP Rowdies organization and the basketball sections were constantly filled with interested students, while their parents questioned the faculty on the other side of the gym. This bustling scene lasted for hours.
As Ms. Henry announced a tour, families flocked to the entrance of the gym. A senior served as their guide for the afternoon; they led the tour into the café. There, Connor Gilheany of the Robotics Team gave a brief but detailed presentation of the team's work in the FTC (First Tech Challenge). Next, the group was led into the art and music rooms. Lorenzo Beer demonstrated techniques that he learned in his art class with Mrs. Preston. After discussing band class in Mr. Plagge's music room, the group moved to room 205. There, Mr. Acquadro and Mr. Scotto lectured about the math department and details about this past year's AP Calculus AB and BC scores. John Kolassa helped demonstrate the technology used in his calculus class, including the way iPad apps are incorporated in teaching graphing functions. Then, the tour veered left and continued downstairs. Mrs. Acquadro and some freshmen students spoke about the labs they will be completing in biology later in the year. Then, Mr. Margolskee and Patrick James spoke about chemistry class. They performed Mr. Margolskee's "Fire Hands" experiment. Later, they spoke about how atoms jump levels, as seen in the Bohr Model. They helped the prospective students visualize this concept by exposing different solutions to the bunsen burner's flame. The flame would change from red to green to blue, depending on where the atoms jumped. After leaving the chemistry lab, the group passed Mr. Klarmann's office. They were taken onto the field and were told about all the sports programs available to students. Tour guide Paul Moyer made sure he touched upon varsity soccer and cross-country's successful start to the season.
Many parents and students in 6th through 8th grade visited Oratory for the first time Sunday. They came to see what a quality education the young Oratory Prep boys received. All who came left with a greater insight into the Oratory product and the great comradery shared by all students.