XC Update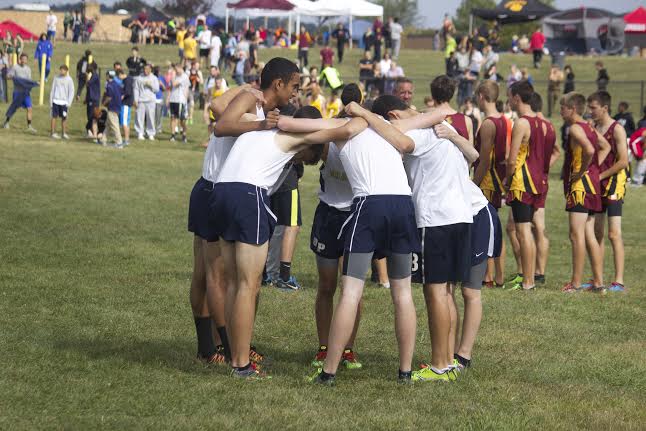 Tim Hartnett, Writer
October 7, 2014
Tim Hartnett, Staff Writer
Last year, the Oratory Prep cross country team put in one of the greatest seasons the school had ever seen. A second place finish at states and a berth in the Meet of Champions earned the squad a spot in the OP Morning Announcements. That being said, the time to celebrate last years' accomplishments has come to an end. The 2014-2015 squad is loaded with talent, and the team is deeper than ever before.
Here's an overview of the guys on the team who should find themselves competing for a spot on the varsity squad once championship season rolls around.
Andrew Vita, Junior, Team Captain: Second man behind Kevin McCarthy last year, Vita is poised to lead the team to a second straight appearance at the Meet of Champions. Andrew opened the season with a 6th place finish at the Newark Academy Invitational (17:16), as well as a blazing 2nd place finish at the Six Flags meet (17:04). Could we see FootLocker Northeast Regionals in his future?
Mike Cantaluppi, Freshman: Mike initially went out for the soccer team, but after a very impressive two mile test, Coach McCrystal lured him to run for XC. His 17:09 at the Warwick Valley Wave Mania race puts him at the second spot on the team.
Brendan Mairs, Senior, Team Captain: In his final season at OP, Brendan stands as a consistent 3rd man on the team. Mairs put up impressive showings at Newark Academy, placing 25th in 18:13, and at Warwick Valley, placing 48th in 18:10.
Max Hubbauer, Senior, Proud Fish Owner: Owner and caretaker of team mascot, Leland the Fish (although Leland may not be alive by the time this gets published), Max put in hard work over the summer, including a trip to Princeton XC Camp, and the results have shown thus far. An 18:08 at Warwick Valley makes him a critical 3rd/4th man.
Adam Lewis, Sophomore, Lives in Bernards: Building off of a strong freshman season, young Adam looks like an early favorite for most improved. As a freshman, Adam's PR stood at a 19:41. Already this year, Adam has smashed that record, running an 18:17 at Six Flags.
John Kolassa, Junior, Broad taste in music: A 17:50 at Preps last year has John hungry for the low-17 time range. 18:27 at the Six Flags Meet? Sounds like he hasn't lost the magic he kindled late last year.
Now, for the 7th man on Varsity, several notable candidates look to be intensely competing for the coveted final spot.
Doug Degolyer, Paul Moyer, and Brian McReynolds all have a chance at ending up on varsity. Paul and Doug went 1st and 2nd in the JV race at Newark Academy, and Brian (who began the year nursing a hamstring injury that would have made the strongest of men cry) crushed out an 18:58 at Six Flags.
As you can see the team is deeper than Mariana Trench. But real quick, before this article comes to a close, I'll give a mention to some JV guys, the unsung heroes of the team, the ones who show up everyday and never get the mention. Shoutout to Mike Weinhoffer, Brendan Mooney, Chris McMahon, Andrew Lynch, Brendan Lawlor,  Andrew Coder, and Tim Hartnett. There's like 40 people on the team so not all of you can get a mention, but patience is a virtue, and if you did not make an appearance in this one, you'll get your shoutout soon enough.
#RoadtoMOCs