Oratory Thumps Dayton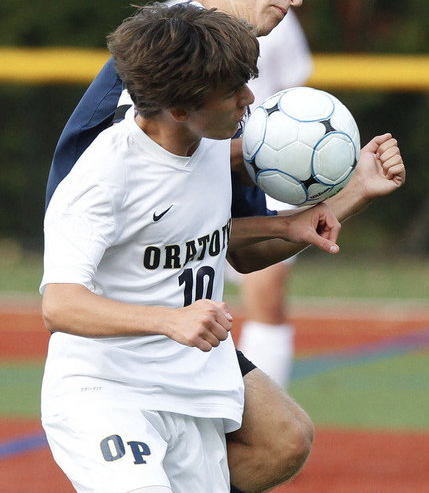 Hang on for a minute...we're trying to find some more stories you might like.
Written By Carlo Lutero
The Oratory Varsity soccer team played against Jonathan Dayton High School on 10/6/14 in a tough match, but came out victorious. The Rams walked onto to the field with strong feet, determined hearts, and motivated minds with one ultimate goal: victory. Immediately as the game commenced the Rams came out swinging, attempting many shots on net by maintaining as much possession of the ball as possible through intercepted passes and great defending by all four defensemen throughout the first half. However Dayton proved to be a strong opposition, as they too worked the ball around the field. The Ram's goalie, Sebastian Ramirez, made a total of 5 exceptional saves in the first half. About 15 minutes before the half-time whistle was blown, Jack Bizub, the "Majestic Unicorn," and his unmatched speed sniped the ball from the mid-18 yard line and was able to find the back of the net. Consequently, right on queue, notorious Rowdies infamous "golf clap" was sonorously undertaken to commemorate Bizub's feat. Of course, his glory had to be fed to him by someone who but the frosh superstar, Arthur "AJ" Kopacz. Thus, ending the first-half with the Rams in the lead.
Expecting another tough half to the game, the Rams marched back onto their home turf as their 1-0 lead uplifted their spirits and determination. Fortunately for Oratory, Dayton could not find equal motivation to push themselves to their limits as they had in the first half. Oratory's clear dominance of the second half and Dayton's inferiority to their supreme skill was the key factor in deciding Oratory's triumphant fate. Possessing and making plays for most of the concluding half of the game proved fruitful as their relentless attempts led to yet another goal. With only four easy saves to make for Mr. Ramirez in the second half, their smart playing resulted in James Gagliano scoring in a spontaneous run into the 18 yard box past the "deft" hands of Dayton's goalie. Thereby concluding the match between the Oratory Rams and Dayton High School at a 2-0 final.