OP Golf Classic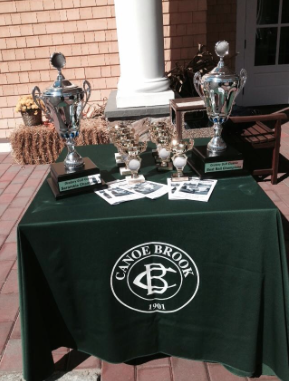 John Felitto, Staff Writer
October 7, 2014
Written by John Felitto 
Oratory hosted its twenty-second annual Golf Outing this past Monday, October 6th, at Canoe Brook Country Club in Summit. The annual fundraiser drew record setting numbers of parents, alumni, and friends to help promote and celebrate Oratory's successes. This year's outing featured over forty foursomes of men and women to enjoy Canoe Brook's North and South courses, home to your Oratory Rams Golf Team, for an afternoon round in the sun.
One of the best parts of the outing each year is the "Beat the Prepster" par three challenge, facilitated by members of OP's Varsity Golf Team. Outing participants get to see how their games stack up against the best Oratory has to offer. This year's list of Varsity Golfers included Seniors Connor Briggs, David Kendall, and Thomas Urciuoli, and Juniors John Felitto and Peter Keane. The game is played individually across the multiple par three holes on both courses, and is commonly referred to as a "closest to the pin" challenge, where if a player hits closer than a varsity golfer, they are entered into a raffle with prizes.
Senior Thomas Urciuoli loves the community and camaraderie seen throughout the Outing, telling The Omega,
"The outing is something I look forward to during each Fall to participate in. There is not a better feeling than watching so many people come out and enjoy themselves while benefiting such a worthy cause. Being able to show my skills to parents, alumni and many familiar faces of the staff really makes this outing special for some of our varsity golfers, including myself."
Another successful year for the Oratory Golf Outing may be a sign of good things ahead; the 2015 High School Season is fast approaching, and our varsity golf team looks to be deeper than ever. Headlined by Captains John Felitto, Don Koomar, and second-year Captain Thomas Urciuoli, the Rams have the talent it takes to make a run for the overall state title. The depth of the team also is at a high, with explosive players like Senior Chris Manning and promising freshman looking to give the team the boost it needs to propel it into the coveted #1 State Ranking.