JV Soccer Suffers a Tough Loss to Johnson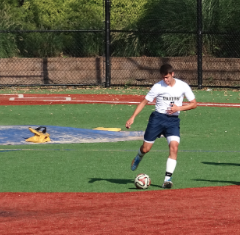 Hang on for a minute...we're trying to find some more stories you might like.
Nick Browne, Staff Writer
Today, the JV soccer team faced Johnson Regional away and lost a close game 1-0. The team came out strong and aggressive putting a lot of effort into their play early. However, Johnson scored a quick goal within the first five minutes to put them ahead by one goal. Oratory's strategy was to play balls up to the forwards who would attempt to get a shot on goal. Sophomore goalie, Michael Koomar, got the team out of many challenging situations saving many attempted goals by Johnson. Oratory's defense remained strong throughout the rest of the game limiting Johnson's lead to only one goal for the remainder of the game. The Rams had many opportunities on net with balls put into the box by Cam Magee and Nick Toscano frequently, but they just couldn't get all the way to goal. Their next game is next Thursday at David Brearley High School.