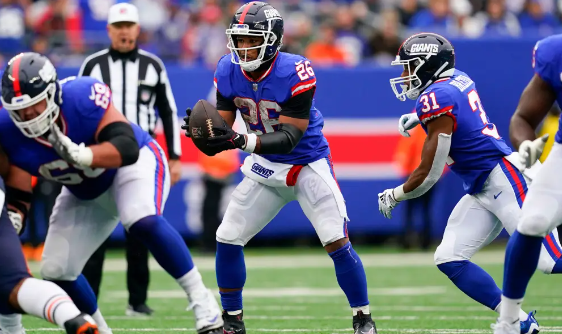 Image courtesy of usatoday.com
Is Saquon Back?
After a disappointing season last year with the Giants, I think it is safe to say that Saquon is back! In his rookie season with the Giants in 2018, being selected 2nd overall, Saquon had an incredible year. Saquon had 1,307 rushing yards and 15 total touchdowns in 16 games in 2018. He backed that up with another great year in 2019 with 1,003 rushing yards and 8 total touchdowns in 13 total games. In 2020 Week 3 against the Bears, Saquon would tear his ACL and be ruled out for the entire season. After the long and hard recovery, Saquon was ready for the 2021 season; however, it was a very disappointing season for him. Saquon had only 593 rushing yards and 4 total touchdowns in 13 total games. After the disappointing 2021 season, Saquon would be soon doubted by almost all NFL fans that he would not make the comeback to his prime self.
Well, Saquon has his receipts now because he has proven that he is still a top 3 running back in the NFL. Saquon so far has 463 rushing yards this season which leads the NFL. Nick Chubb is not far behind with 459 as the two are by far the best two running backs this season. Saquon rushed for 164 yards on 18 carries and a touchdown in Week 1 against the Titans. He backed that up with 81 rushing yards and a touchdown against the Cowboys, and 146 yards on 31 carries against the Bears. Saquon has shown so far this season that he might be back and better than ever.