Album of the Month: November 2021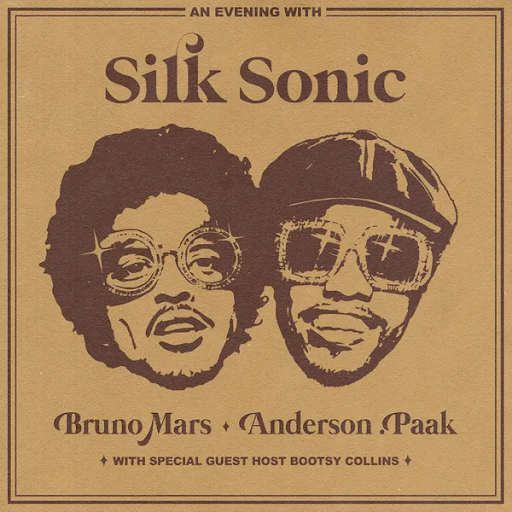 In all honesty, I believe November has had the greatest range of solid projects from all year. Silk Sonic, the Anderson .Paak, and Bruno Mars R&B duo, released their debut album, An Evening With Silk Sonic. Aside from being a testament to the songwriting talents of both members, An Evening With Silk Sonic has an extremely unique theme of an album dedicated to creating a concert experience at home. Due to the COVID-19 pandemic, it's easy to see where the brainchild of Mars and .Paak came from. On another note, Adele released her comeback album, 30, this month. Creating a unique, empowering sound is Adele's forte (and has been for quite some time). Nothing is more freeing and empowering in terms of raw emotion than Adele's recent divorce as fuel to the fire. She has evolved to match the time period and released a contemporary pop record with aspects of soul and R&B throughout the phenomenal project. Third, Aminè dropped TWOPOINTFIVE, his second mixtape amid five full projects (the other three being albums). And yes, his unorthodox style of dropping an album then mixtape, then album, then mixtape continues. Aminè has grown a lot in just about every aspect of music-making since his July 2017 album release of his first album, Good For You. He has always been progressive in his sound and experimental in the instrumentals he chooses. This is especially true in this November's album where Aminè is seen creating hyper pop on multiple occasions while also typically rapping on diverse pop beats. Finally, Taylor Swift released Red (Taylor's Version) this November. Since this album was technically a re-release, I eliminated it from consideration for AOTM, however, it's too good to not talk about. Aside from being acclaimed as one of the best albums of this year, Red (Taylor's Version) provides an explosion of creativity and revitalization to all of her old songs. This is not even to mention that Taylor pulled almost enough songs out of the vault to release. She could have released an entirely new album of songs that are still amazing but were just eliminated from the original cut of Red. I can't even bring myself to talk about All Too Well (10 Minute Version) without crying, so we'll just gloss over that really quickly.
Now, the question… Who received AOTM? Well, my good friend, it was a close race this month, but not close enough. Silk Sonic's An Evening With Silk Sonic beat out Adele's 30 in a pretty close race. Silk Sonic did have the upper hand, as I will admit their March single "Leave the Door Open" made me extremely excited for a potential project from the get-go. While on the topic, "Leave the Door Open" is one of my favorite songs from this entire year and is proof of the synergy and skill that both Bruno Mars and Anderson .Paak possess. Although only nine tracks long and barely clocking in over thirty minutes, An Evening With Silk Sonic is an experience, it's meant to be. It leaves you begging for more from such a magical duo. The entire album is cohesive in its narrative perspective and storyline and even songs that are critically considered the worst such as "777" are still some of the best songs of the entire month. Even though there are eight songs on Silk Sonic's album I would go as far as to say that all of them make the top ten of a list compiling all the songs together from this November. This album is so groovy and vaguely familiar even on a first listen. It truly makes me feel like I am at a small room concert and Mars and .Paak are standing right in front of me. It's fun, it's soul, it's beautiful and it's Album of the Month. If I were to recommend every reader to go listen to just one album from this year, it would have to be An Evening with Silk Sonic.
Aminè is not a controversial character, nor is he an underground artist. His following is mainstream to an extent but not so much so that every one of his songs is playing 24/7 on the radio. This gives Aminè, whose real name is actually Adam Daniel, the inspiration and independence to create any type of genre of music he wishes. This has led to extreme creativity in the past and the amazing success of his 2020 album Limbo. On another note, unlike Limbo, TWOPOINTFIVE is much more focused on experimentation in hip-hop as well as crossroads with hyper pop and even some R&B. Limbo, although an amazing project, does not have this variation. TWOPOINTFIVE has songs like "Colors" and "Charmander" that prove that Aminè could release a solid hyper pop album in the future, it only depends if that is something that he is interested in doing. Aminè's energy is always emphatic and charming and that is no different here than anywhere else. He's proved time and time again that his hit single "Caroline" was not the end for him. Instead, his music has grown progressively better and even more fun as time has passed. TWOPOINTFIVE is a super fun project. It's one of those projects where you'll either love it or you'll hate it. I just so happen to love it.
Now, I am excited to talk about Adele's latest effort, 30. This album is exactly what the world needed to bond over in recent years. Whether we want to admit it or not, these past few years have been rough, to say the least. And Adele feels the same. About three years ago, Adele started what would be the hardest period of her life – her divorce from her husband. This was especially complicated by their young son, who was only eight years old at the time. This brought turmoil, and Adele discusses how hard it is to explain to your child that you chose your happiness over theirs, and the guilt stays throughout the album. This guilt is most apparent in "Easy on Me," as we see Adele struggle to apologize and explain her decisions to her son. She dedicates the majority of the album to him so that when he grows up, he can understand what his mother went through. 
Adele is known for her piano ballads, her powerful voice, and the timeless feel of her music. After "Easy on Me," we knew she still had the knack for one, but what else is she doing? The anticipation for this album, for me, centered around the curiosity of what Adele would do to differentiate this time around – or if she'd rather just stick to what works. I'm very pleased to notice that she used a variety of sounds I'd never expect to hear from her. For example, the beginning of the album, and the first three tracks, are very straightforward Adele. All good music, but nothing you wouldn't expect. However, then comes "Cry Your Heart Out," and the album starts to come into its own. "Cry Your Heart Out" isn't anything especially extraordinary, however, it marks the change in direction of the album. Adele isn't belting – nor is she crooning – she is breezing over groovy drums. It doesn't even feel like her. She's singing differently, her tone is lighter, and the song feels bouncy – not the typical formula for her music. On songs like "Oh My God" Adele sings at a considerably higher pitch than I've heard from most of her music and the drums are considerably more – modern – than I expected. To add, you need to hear how this song progresses, because Adele layers her chorus vocals in a choir manner over these live-sounding kick drums, and it works amazingly. The energy of this song continues to be more upbeat while maintaining the songwriting we know she's capable of – and easily giving me a playlist-worthy track.
"Can I Get It," is an Adele-pop classic, carrying the same feeling of a Red-era Taylor Swift hit, with the gravity of an Adele track. The guitar in this song is amazing, and Adele continues to play with her vocals and stray from the belting format. Finally, my favorite song, "I Drink Wine" does not sound like typical Adele. Then I listened, then I replayed it, and then I replayed it again to make sure I was right about what I just heard. This song is everything I want in an Adele song. The vocal segment, where the instrumental is subdued, and Adele gets the spotlight (which she CARRIES) is a pleasure to listen to. Then, she gets to the pre-chorus, where she sings over a pitched-up choir of her own voice, which is always appreciated. Then, she hits us with the most beautiful chorus I've ever heard over the same choir of her own voice, with the new inclusion of airy drums and a smooth piano. 
Before I drone on any longer, 30 is an impeccable depiction of adult heartbreak within the music medium. Many albums have explored young love, flings, and the heartbreak brought upon by "the one," but I have not heard divorce depicted this well. As a child of divorce, I know how much it hurts, and Adele gets that across with such ease on this whole project. The album was recorded concurrently with her divorce, so it plays out almost chronologically, which allows for a unique experience. We hear Adele experience all five stages of grief in this concise, beautiful project, and we get to experience the growth she did, through her music. It's an incredible album and a must-listen for any general music fan.
Now, as much as I'd love to go this month without addressing Taylor Swift, I can't ignore Red (Taylor's Version). I'm not gonna talk much about the re-recorded tracks, because, for the most part, they're the same things, and they're all great. However, the new additions of the (from the vault) tracks are a wonderful deluxe version of this album. Songs like "Better Man" showcase classic Taylor during her arguable peak Red-era, with a catchy chorus, a somber tone, and the youthful radiance we expect from this era. Then, songs like "Nothing New," featuring Phoebe Bridgers, feel extraordinarily mature for when it was written, and feature some of the best vocal performances I've heard from T. Swizzle. Now, the long-awaited "All Too Well (Taylor's Version) (10 Minute Version)." This song is LONG, as obviously stated by the name, but wow, is it good. "All Too Well," was already a fan favorite on Red and considered one of Taylor's best songs, but this version manages to add on to the quality amazingly. Over a re-worked instrumental, Taylor adds a myriad of new verses to the song, painting a clear picture of the downfall of her relationship with Jake Gyllenhaal. To accompany these new, emotional verses, Taylor released a short film about her relationship, that I immediately recommend to anyone who wants to hear the ten-minute version. A heartbreakingly beautiful film, accompanied by the best song on the album, and it's definitely worth a watch.
And that's about it! Four amazing projects were released this month. If you have the time, I would recommend listening to all of them, but if not possible, take a listen to An Evening with Silk Sonic or 30. Both albums are amazing and understood their assignment 100% of the time. Silk Sonic ended up on top this time but Adele would be deserving of the award in almost any other month. It's hard to take away from the validity of an arbitrary award, but for now, I still have the power. And I say this month's award goes An Evening with Silk Sonic by Silk Sonic.