Coach K (Kaounis) Announces Retirement: A Memoir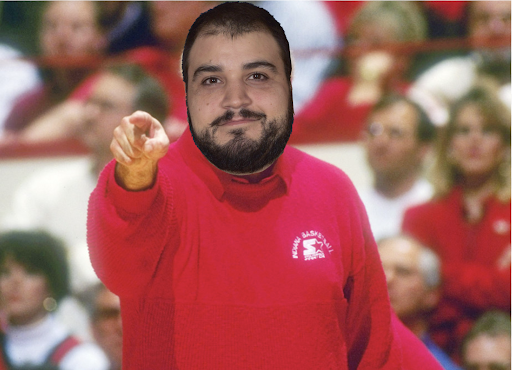 In 2020, OP middle school basketball season ended before it began. As a new season approaches several questions are still up in the air: Who will fill the roles of the former 8th Graders? Can the Rams re-ascend to greatness?  Will anyone break Brian Kelly's single-game turnover record (25)? However, perhaps the most anticipated question about the season has been answered. In a recent statement from his press team Coach James Kaounis announced that he will be hanging up his whistle and retiring from Coaching Oratory's finest prospects. After recovering from the wave of sadness that swept over our whole staff when the news came out, I decided to drop everything and take a look back at the man who built Oratory Middle School Basketball, Coach K. 
From a young age, Kaounis was athletically gifted. At five years old he accidentally benched 225lbs when his father left his weight rack unattended. Kaounis's athletic prowess would only grow as he got older, making opponents miserable on the football field and the basketball court. In high school, Kaounis blossomed into a five-star offensive lineman at St. Joe's Montvale. His peers dubbed their home field Big K's Pancake House as he obliterated his much inferior competition. Coming out of high school Kaounis left sports behind, turning down offers from 64 power five schools and a personal invitation to enter the NBA draft from David Stern, opting to focus on his studies at Ramapo College. His pursuit of pure academia did not last long as he quickly joined a fraternity and even faster rose to the prestigious rank of Director of Initiation. Even with the distractions "The Boys" brought him, Kaounis managed to graduate in just four years at the top of his class, ready to bequeath his ever-expanding knowledge on whoever would listen. The goal of enlightening others drew him to teaching, and as with everything else he had tried thus far he was, simply put, elite. In his first three years of teaching, Kaounis managed to set a record by producing 7 future Nobel Laureates. In his early years of teaching, even though he was flourishing like no one before, he was unsatisfied. In 2013, amidst his search for satisfaction, Kaounis accidentally applied for and accepted a job at Oratory, when he misread the name as 'Oratory Prep School For The Boys'. By the time he realized his blunder it was too late, but little did he know his several-second blunder would lead to an eternity of Glory.
When Kaounis arrived at "The Big O" he quickly realized it was different from anywhere he'd taught before. The students were smarter, stronger, rowdier than he had ever seen. Students and faculty also quickly noticed that Mr. Kaounis was no ordinary teacher. Aside from his, well above the national average intelligence, everywhere he went he was followed by a sound, the dribbling of a basketball. Kaounis dribbled his prized Wilson Evo basketball everywhere he went, snatching students' and teachers' ankles alike. After only a month of the nurse's office being overrun with victims of his fierce crossover, Mr. Kaounis was recruited to coach the Middle School Basketball Team. Coach Kaounis was unlike anything OP students had ever seen. Legend has it that on his first practice he ran the entire team up and down the Bain stair until they had all thrown up. While his methods were questionable, and maybe even unethical, no one could argue with his results. In his first season Coach K led the Rams to an unheard-of six wins and four losses without a single player over six feet, but he wouldn't stop there. Over the next several years, through raw unequivocal coaching ability and the implementation of the triangle offense, Coach K would build OP middle school hoops into a dynasty. Nothing can describe Coach K's time wearing the whistle better than his achievements: finishing above .500 almost every year, coaching a loaded 2018 team to 9-1, producing countless college recruits, winning countless Rammies, and finishing third in the 2019 NFL Walter Payton Man of the Year Award voting. Overall Coach James Kaounis was one of the finest men to hold an Oratory Middle School coaching position; his opponents feared him, his players loved him, and his other faculty members wanted to be him. It will be sad to see Coach K go, but the pain is slightly eased knowing Oratory students everywhere will never forget the name James Kaounis. 
In remembrance of Mr. Kaounis coaching career, I asked several students to share their favorite "Coach K" stories  
"One time Coach was in a hurry to finish practice which was unusual since he usually ran several hours over, so naturally when we got out I decided to follow him and see where he had to be. I was quite confused when I saw him walk into the summit YMCA, so again I followed him. When I got inside the worker at the front desk told me he had gone into the gym. When I went to the gym to see what was so important I found Mr. Kaounis scrimmaging the New York Liberty 1 on 5 and get this I watched the whole game which was played to 100 and he won 102 to 0, and that was just K" – Brian Kelly former student of the game 
"When I visited as a freshman for a day Coach K was holding practice in the gym. Since my parents were late to pick me up I went in to watch. They were running a shooting drill and got one of the basketballs stuck on the batting cage hanging from the ceiling. The kids went to him and told him what had happened. He went to press the button that lowered it. Unfortunately, the button was broken. In a fit of rage seemingly speaking to himself Coach K said "FINE I'll GET IT MYSELF!" so he jogged over to the cage and off of a planted two-foot jump leaped all the way up to the cage, grabbed the ball, and returned to the ground unharmed, and that was just who Coach K was." – John "Jack" "Big Red" Cuddihy 
"I once saw Coach K stop three armed robbers  at the Dunkin Donuts on Morris Ave" – Matt DeAngelis VP