Mikaela Shiffrin – The Best Female Skier in the World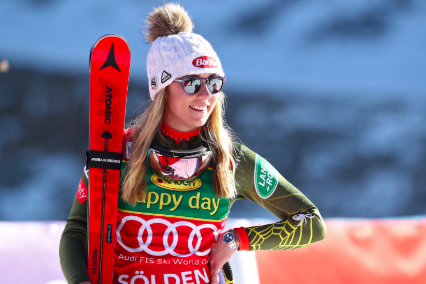 The numbers certainly don't lie when it comes to who is the best female alpine skier in the world. Mikaela Shiffrin, with her numerous medals, awards, and recognitions, reigns as the top female slalom skier ever. 
Born in Vail, Colorado, Mikaela Shiffrin made her World Cup debut at the astounding age of 15 years old. In early April, just a few weeks after her 16th birthday, Shiffrin won the slalom title at the US National Championships at Winter Park, Colorado and became the youngest American ski racer to claim a national alpine crown. Shiffrin, ever since turning 15, the youngest skiers are allowed to be to participate in FIS (Fédération Internationale de Ski or International Ski Federation) events, has been breaking records. The FIS is the world's highest governing body for international winter sports and the top international circuit of alpine skiing competitions
So how did Shiffrin get so, well, good? Besides her immense love of the sport, constant dedication, and tireless devotion to improvement, she had a lot of support from her parents, Eileen and Jeff Shiffrin, who were both originally from the northeastern United States and former ski racers. Shiffrin's father, Jeff, grew up in New Jersey but was an avid skier on weekends in Vermont with his family. At Dartmouth College in New Hampshire, he raced for all four years of his college career. Her mother, Eileen, raced in high school in northwestern Massachusetts in the Berkshires, and her brother, Taylor (born in 1992), raced for the University of Denver.
Today, Mikaela Shiffrin has a total of 3 Olympic medals (2 gold), 7 World Championship medals (5 gold), and 96 World Cup podiums (66 wins). In addition to all her slalom wins, however, she has many other recognitions as well. For example, Sports Illustrated declared her the "world's most dominant athlete," an award that can go to any athlete from any sport. They didn't give it to LeBron James, not to Serena Williams, not to Lionel Messi. They gave it to Mikela Shiffrin. 
Unfortunately, Shiffrin has been taking a break from the World Cup after her father, Jeff Shiffrin, died of a head injury suffered in an accident in Colorado at age 65 in early February of 2020. She has, however, made it clear she has every intention of returning to the racing game as strong as she came out. 
Shiffrin has already surpassed all of the records of any female ski racer that has ever lived by a long shot, but that hasn't curbed her motivation to continue her career. Everyone is watching in awe to see what else she can and will accomplish over her racing career and following.