What's Next For "Famous Jameis"?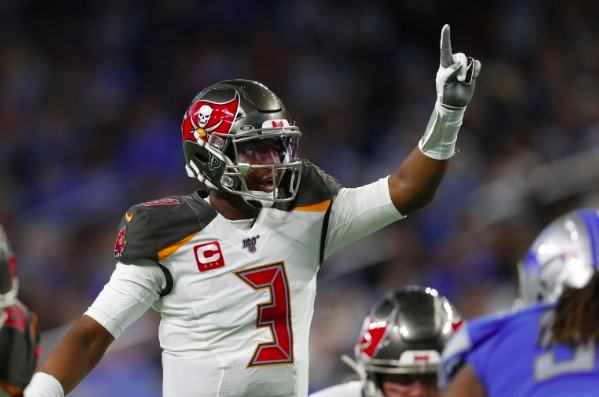 Editor's note: This article was written on December 16, and the following statistics have since changed
Most passing yards (4,573), second most passing touchdowns (30), and most interceptions in the NFL (24).
Only one quarterback in the NFL could have these kind of numbers.  That's Jameis Winston.
Winston is in the final year of his contract with the Buccaneers.  His success this year has earned him a pretty big contract entering the 2020-2021 season.  Jameis has the best wide receiver combo in the league currently: Chris Godwin and Mike Evans.  This year, Godwin has hauled in 86 passes for 1,333 yards and 9 touchdowns. Evans has caught 67 balls for 1,157 yards and 8 TDs.  Between the two receivers, they have combined for 17 TDs and over 2,400 yards. Winston has been much better this year with those two targets.  The one main problem with Jameis is his decision making. He attempts throws that have zero shot of being caught by a Bucs receiver. His interception numbers are through the roof.  He has attempted the most throws of any quarterback in the NFL, which speaks to Tampa's not so effective run game. The interceptions are the biggest knock on Winston's game. He can make many throws, but he needs to clean up the bad ones.  Jameis has even improved Tampa's record to a respectful 7-7 this year.
The question is, where will Winston land in the offseason?
Personally, I believe there will be three teams in the run for him.  Those teams are the Pittsburgh Steelers, Los Angeles Chargers, and the Tampa Bay Buccaneers.
Pittsburgh is in desperate need of a QB.  Ben Roethlisberger was supposed to come back and play the 2019 season, but that was halted by a season ending injury.  They had hope in Mason Rudolph, who showed promise at the start, but later fell apart. They have been using a third string quarterback lately, Devlin "Duck" Hodges, but he will not be the starter in the future.  Bringing Winston to Pittsburgh would be an interesting move. They have a good running game with James Conner. Also, they have star wideout JuJu Smith-Schuster and Diontae Johnson, who has had himself a pretty nice year.  The weapons are sufficient and Winston could definitely help them compete.
I don't think anyone at the start of the season thought the Chargers would need a new starting QB in 2020, but Phillip Rivers has had a very disappointing season. The Chargers are loaded with weapons.  They have RB Melvin Gordon, who may resign, and Austin Ekeler, who puts up wide receiver numbers in the back field (892 receiving yards and 8 receiving touchdowns). On the outside, they have a lot of depth.  Keenan Allen has proven himself to be one of the best receivers in all of football when he stays healthy. Along with Allen, they have Mike Williams, who has put up two very solid seasons, and tight end Hunter Henry is also having himself a good year.  The main decision for the Chargers if is they want to get rid of their franchise QB (who has been there since 2004). They may want to hold onto him for one more year and see if they can compete like they did so well in 2018.
Finally, the Tampa Bay Buccaneers. Like I stated earlier, the Buccaneers have the players around Winston already.  He works really well with them, especially when he is on. I think the Bucs will resign Jameis. The only thing they are really missing is a run game.  They rely too much on Winston's arm. With a sufficient backfield, I believe Jameis Winston could be a Pro Bowl quarterback. If he can quit making the bad throws, he can be very successful in the place where it all started… Tampa Bay.