An Interview with Joe Meade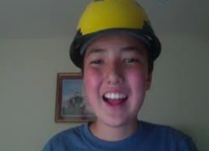 Hang on for a minute...we're trying to find some more stories you might like.
At a glance, Joe Meade is just the average Oratorian walking down the halls dressed in khakis and a button down. However, he is not like the rest of us. Joe Meade is a student who excels in all facets of his busy life as a stud cross country runner, great student leader and above all, a University of Michigan mega-fanatic.  I had the privilege to sit down and talk with Joey about his life recently and most importantly, Michigan.
For the people who don't know you, can you tell us a little about yourself?
I have been going to Oratory for six years. From my first year here I have been involved with the Omega and the Band. In high school, I was our grade's CEO three times, I am on the FED Challenge Team, I have been involved with the baseball and cross country programs, and I am a Carlton Fellow. Outside of school, I like to stay in shape, play pickup sports, watch sports (on TV or my friends' games), and have a fascination with the Marvel Cinematic Universe.
Last month you heard some pretty big news getting into UMich, how important was the decision for you?
I am not being over dramatic when I say that it was the best moment of my life. From day one, going to Michigan was more than personal, I had to do it. Long nights studying and not having fun were a small price to pay to achieve my goal. To me, getting that acceptance letter was a culmination of everything I have strived for in these last three years.
Why the University of Michigan?
Aside from the fact that it is a premier educational institution, my love of their sports teams has been something I have had inside of me since I could reason. When Michigan Football or Basketball wins, I am a happy camper, when they don't apparently I am not (haha). Watching those sporting events and the respect I have for those players reminds how privileged I am to attend such a great University. Everyone in the school who knows me knew Michigan was my #1 by a mile and has been my #1 school for years. I do not think you can say that about too many people.
For the underclassmen who are preparing to look at college, what advice would you leave them?
For underclassmen, I do not think it is bad to have a #1 goal. If you have a dream school and it truly is your dream,  you have to work your tail off every day to make sure you can go there. Get involved outside the classroom as well. Also, do not hesitate to sacrifice a night of fun for a night of studying. I hate to say this famous movie line, but the hardest choices require the strongest wills. I truly believe everyone has a strong will to succeed, if you have one, you have to follow it no matter how hard it is at times.
I heard UMich basketball is terrible this year, Joey, what are your expectations for them in March?
HAHA. Believe me, I was thinking that when we got our tails beat by Wisconsin. In all seriousness, at any other place in the top 5 and winning 17 of your first 18 is good enough. But at Michigan, your desires have to be on the National Championship. I hope the feeling of despair and defeat fires up Michigan Basketball and they can exercise their demons on their opponents. When (not if) they reach the National title game (where we have been twice in the past six years) I hope they use their demons from being thrashed by Villanova in that same game to lead them to victory. Right now my prediction in the title game is Duke vs Michigan.
Needless to say, Joe Meade is a very interesting person. Although his love for Michigan can be annoying at times, it is his hard work, his witty sense of humor and his passion for Michigan that makes him a very likable guy.