Alabama Senate Race: Doug Jones Defeats Ray Moore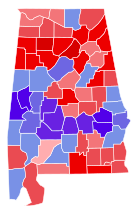 Hang on for a minute...we're trying to find some more stories you might like.
The 2017 United States Special Senate Election in Alabama was the most publicized election since the presidential election last year. This election was held to replace former Senator Jeff Sessions who left the Senate earlier this year to become Attorney General under the Trump administration. The election received much attention because the established Republican candidate (currently filling Session's old seat), Luther Strange, was defeated by the far right conservative, Roy Moore, in the Republican Primary. Roy Moore had said and done some things that garnered him a lot of negative attention such as saying Muslims should not be allowed in Congress and waving a gun on stage. He then became one of many high profile people to be accused of sexual misconduct.
This helped pave the way for the Democrat candidate Doug Jones to win the election. Despite being a down in some of the polls, Doug Jones won the election over Roy Moore in a major upset victory. This election is very notable because Alabama is a very conservative state and has not sent a Democrat to the United States Senate in over 20 years. Doug Jones, considered a moderate Democrat, was able to win over independents as well as many moderate and even some conservative Republicans. He won the election with 49.9% of the vote compared to Moore's 48.4%. President Trump, who backed Moore, congratulated Jones on his victory and noted that write-in votes played an influential role in this election. Some Alabama Republicans who wouldn't vote for a Democrat nor Moore wrote someone else's name or did not vote.
Roy Moore has yet to concede the race citing that he wants a recount. In order for there to be a recount in Alabama, the margin has to be within 0.5% of the vote. It is currently at 1.5%. Moore is hoping that when they verify the write-in votes, it will close the margin because the votes only count if the person is qualified to serve as a Senator representing Alabama. However, this hope is a long shot because it is unlikely that the margin will even come close to 0.5% after verifying the write-in votes. Even if a recount is allowed, it would be highly unlikely that Moore could gain that much to win. When questioned, Senator-Elect Doug Jones said, "It's time for him [Moore] to move on."
Photo Credit: Politico