St. Philip Neri Club Running for Jefferson Public Volunteer Service Award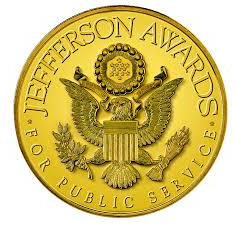 The Oratory Prep student body has spread its influence through the service of many over the course of this year. The culmination of all of the events and drives has truly left a lasting influence on many, inside and outside of the community. We have organized drives for socks, jackets, backpacks, and other goods. Through all of the service, the St. Philip Neri Club has kept track of the amounts of goods collected and the lives influenced. On behalf of the entire Oratory Prep community, the Philip Neri Club is running for a Jefferson Award for Students In Action Public Volunteer Service.
Created by the American Institute for Public Service, the award aims to recognize people or organizations that do remarkable things. The award inspires Americans to change their communities and world, including Students In Action (http://www.jeffersonawards.org/about/). The initiative promotes student thinking in areas of service which they view passionately. From there, students aim to spread their ideas for maximum impact. A simple idea can ignite action throughout a club, throughout a school, throughout a community, and continue to extend to the highest levels. Its foundation is based on the three pillars of leadership, engagement, and impact.
This offers us a great opportunity to look back on the extent of impact the clubs and students have had on creating a legacy of doing good in the world. The St. Philip Neri Club mission, similar to many of the service clubs, is to respond to the cry of the poor, the lonely, the ill, and the marginalized through its actions. This year, the club has focused on helping the homeless by running donations of food, coats, turkeys, and socks, and supporting the Campus Minister in serving at BRIDGES, SHIP, and Community Food Bank. Steven Graham, designer of the Bro-Care Program, provide Bro-Care packages to cheer up many who are sick or elderly. Also, the Club's Student Leadership committee demonstrated their leadership by revitalizing the original 1612 Constitution of the Oratory. In creating a modernized version, the framework for club service activity and acting in accordance with the philosophy of St. Philip Neri is set in writing.
The impact of all the clubs and OP students has been recognized through people who have been served, as well as many who have their expressed gratitude for the donations received. Likewise, the club members feel a sense of accomplishment as they are able to see their good deeds directly help the lives of others. This sense of making our world a better place is something that the club hopes to continue for years to come. The Jefferson Awards Students In Action recognition would bring together all of the services the club has done and all of the lives changed together in a renowned accolade.
Photo Cred: http://t-bar.org/tbar-founder-awarded-2014-jefferson-award/