NFL 2016-2017 Season Review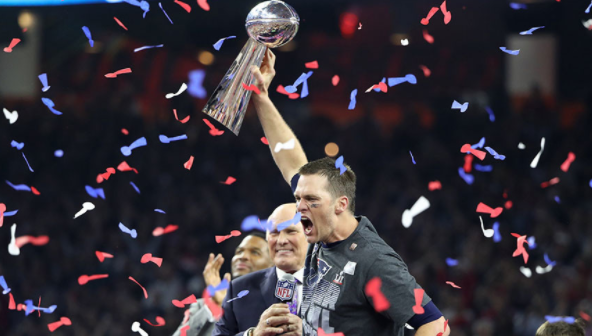 Hang on for a minute...we're trying to find some more stories you might like.
The 2016-2017 NFL season was an amazing season and had many memorable moments.  It all ended with an amazing 25 point comeback by Tom Brady and the Patriots that ended with a game-winning touchdown in overtime.  At NFL Honors, Matt Ryan (Falcons) won the NFL MVP award as well as the NFL Offensive Player of the Year.  Dak Prescott (Cowboys) was recognized as the NFL Rookie Offensive Player of the Year, while Joey Bosa (Chargers) won the NFL Defensive Rookie of the Year award.  Jordy Nelson (Packers) was named the Comeback Player of the Year.  Meanwhile, the Walter Payton Man of the Year award had two recipients: Eli Manning (Giants) and Larry Fitzgerald (Cardinals). This year's Hall of Fame inductees were Ladainian Tomlinson, Morten Andersen, Jason Taylor, Kenny Easley, Jerry Jones, Terrell Davis, and Kurt Warner.
On the offensive side, the season presented many shows of talent.  One of the most memorable was the 500-yard passing performance of Matt Ryan in combination with the 300 yard receiving performance of Julio Jones (Falcons).  Drew Brees (Saints) led the league in passing with 5208 yards.  The season also marked a breakout year for running backs.  Among the top five running backs, three of them were either rookies or were given the starting job later in the year.  Ezekiel Elliott (Cowboys) led the league in rushing with 1631 yards.  T.Y. Hilton (Colts) led the league in receiving yards.  The Saints led the league in total offense with 6816 yards.
On the defensive side, there were a few players who stood out for their ability to stop these flashy offenses.  Bobby Wagner (Seahawks) led the league in tackles with 167.  Vic Beasley (Atlanta) rebounded from a relatively disappointing rookie year to lead the league in sacks with 15.5.  Casey Hayward (Chargers) led the league with seven interceptions.  The Texans owned the league's stingiest defense, which led the league with the least amount of yards allowed (4821).
The 2017-18 NFL season will be very exciting.  The Browns will look to rebuild with the first pick in the draft after suffering through a 1-15 season.  The Patriots will return with the ageless Tom Brady and a possibly healthy Rob Gronkowski.  The Jets will try to bring back the magic of 2015, while the Giants look to continue to grow from their playoff appearance this year.  Next year will be a fun one to watch.
Image Credit: https://cdn.rt.com/files/2017.02/original/58984087c36188e8188b45a0.jpg