John Wick: Chapter 2 Movie Review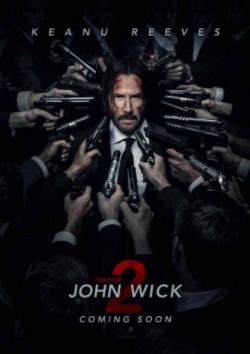 Hang on for a minute...we're trying to find some more stories you might like.
John Wick: Chapter 2 is a sequel to 2014's sleeper hit John Wick and Chad Stahelski returns to direct this one (David Leitch did not return to be a co-director on the sequel and instead went to direct the upcoming movie, The Coldest City). The sequel starts a few weeks after the conclusion of the first one and picks up with John Wick, played magnificently once again by Keanu Reeves (The Matrix, Speed), being approached by Santino D'Antonio to repay an unbreakable debt. The movie kicks off from here and moves at a brisk pace from here that makes the two-hour runtime fly by. Common (Selma, Wanted) and Ruby Rose (Orange is the New Black) make for tremendous foes for Wick to fight and make the most of their limited screen-time. Ian McShane (Game of Thrones, Deadwood) and Lance Reddick (The Wire) return as the managers in the assassin's hotel, the Continental, and keep the viewer wanting even more of this crazy, underground world. Reeves's The Matrix co-star, Laurence Fishburne, pops up in a colorful cameo that is set-up for a larger role in the third film. This movie is loads of fun and has some of the most creative ways to kill people in movie history. It feels like a classic action film and makes you realize that they just don't make action movies like this anymore.
John Wick: Chapter 2: 8 out of 10
Photo Credit: http://www.indiewire.com/2016/10/john-wick-chapter-2-poster-keanu-reeves-guns-1201734796/