Split (2017) Movie Review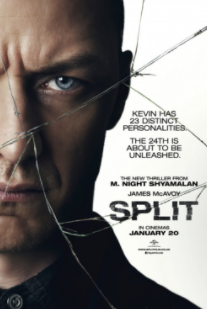 Hang on for a minute...we're trying to find some more stories you might like.
M. Night Shyamalan is back! After a streak of critically reviled films like Lady in the Water, The Happening, The Last Airbender, and After Earth, Shyamalan took a step in the right direction with 2015's The Visit. Now the filmmaker behind classics such as The Sixth Sense and Unbreakable has made a roaring return back into moviegoers' good graces with his newest film, Split.  Split is a psychological thriller that revolves around a man who suffers from Dissociative Identity Disorder (DID) and has 23 distinct personalities inside him. One of these personalities has kidnapped three teenage girls in order to be sacrificed for "The Beast." James McAvoy (Atonement, The X-Men films) is unbelievable as Kevin and creates extremely distinct mannerisms and personalities for each of the "people" that inhibit Kevin's body. Anya-Taylor Joy (The Witch) also shines as Casey, the lead of the three girls, and perfectly hints as the movie progresses that even though she is a "loser" in school, that she is the smartest of the three girls. Taylor-Joy is tremendous in this role and while McAvoy has the flashy role, Taylor-Joy carries this movie on her shoulders and pushes it forward. However, the star of the show is McAvoy and he does not disappoint. He is terrifying in the role but also strikes the perfect balance from being over-the-top and also showing subtlety in scenes that help delve into Kevin's psyche, especially during scenes with Betty Buckley's Dr. Karen Fletcher who is Kevin's psychologist. Shyamalan's extremely tight and compact script helps move the story along and does not waste any screentime. He does not leave scenes on screen for too long, whether it is a flashback that shows why Casey seems like she knows what she is doing or Kevin's therapy scenes with Dr. Fletcher. This movie is a wonderful psychological thriller and is the first great movie of 2017.
Split: 8 out of 10
Photo Credit:http://www.impawards.com/2017/split_ver2.html