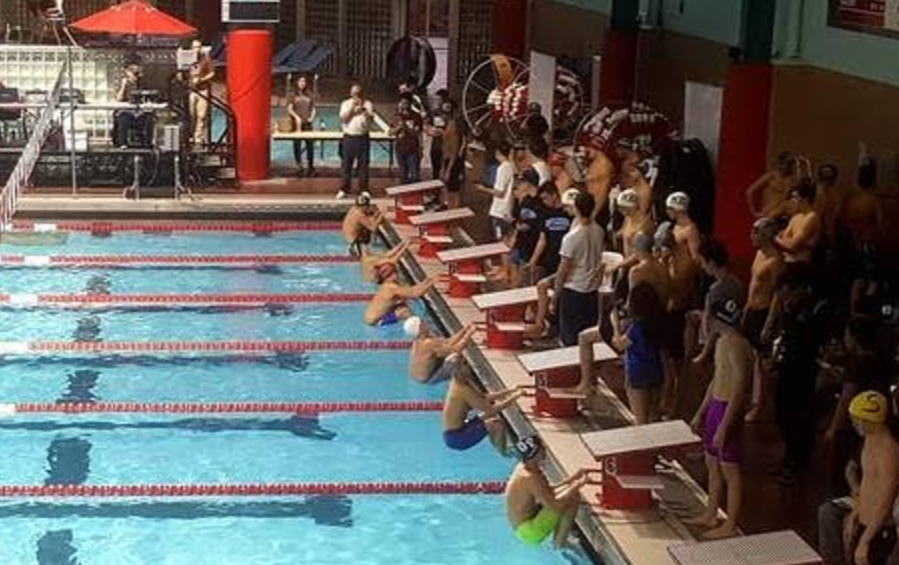 With the Union County Championships just past, the OP Swim Team has had many great meets leading up to this event and many great swims in Rutgers this past weekend.  But before the championships, there have been five meets with an overall record of 2-2.
The fifth meet of the season was against the #5 team in the state, Scotch Plains.  Even though they are a very good team, the team had an impressive showing with the final score only 95-75, much better than anticipated.  Just two days later, the swim team traveled to Governor Livingston where they had a very impressive showing.  The team placed first in 7 out the 11 events, including the 200 yard medley relay where Ian Ellmer, Aidan Herrighty, Patrick Heffernan, and Andrew Meisner broke their own records. In their individual races, Meisner picked up two wins, two more for Heffernan, and one each for Ellmer and Herrighty.  However, the final score was 92-78 in favor of GL.
After a much needed rest period of Christmas break, the swim team was back in action on January 5th, defeating Plainfield by a score of 128-41.  John Cannila placed first in the 200 IM and 100 free while Patrick Heffernan took first in the 200 Free and the 100 Back..  Aidan Burrows won the 500 free. Aidan Herrighty continued with his success in the 100 Breast with another 1st place finish, and Andrew Meisner won the 100 Fly and Ian Ellmer took first in the 50 free.  First place was also awarded to our team in each of the three relays.  The swim team continued on the successful path with a win against Union on January 12th. Andrew Meisner won the 200 IM and 100 back, Joe Nowacki secured a victory in the 100 breast, and Aidan Herrighty won the 500 free. Ian Ellmer also took first in the 50 free.  The final score was 108-62.
Just this weekend, the OP Swim Team participated in the Union County Championships at Rutgers University. It was an incredible meet for all the swimmers with 20 out of the 24 participants earning a best time.  The 200 yard medley relay broke their own record for the fourth time by dropping another two seconds to a 1:43:35, a time that earned fourth in the county.  Andrew Meisner placed fifth in the county in the 200 Free and 500 free, Patrick Heffernan took fourth in the 100 Butterfly, Aidan Herrighty placed sixth in the 100 Breast, and the 400 Free relay team took fifth. Overall, the team placed fifth in the county with 185 points.  Next up for the team is a dual meet against Cranford on the January 24th.