Explaining the Aleppo Conflict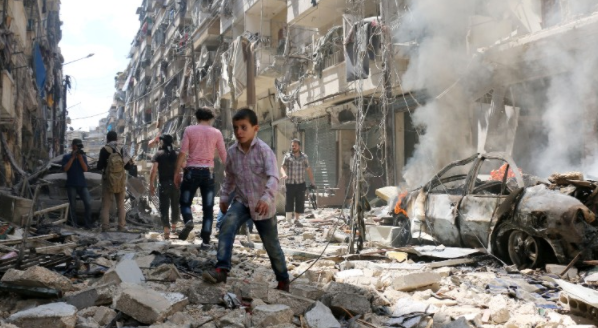 Hang on for a minute...we're trying to find some more stories you might like.
While a large number of the populous already know about the situation the city of Aleppo, Syria is in, an even larger majority lack the basic facts. With trends promoting awareness for Aleppo and praying for the people in it are building popularity on social media platforms, perhaps it would be an appropriate time to provide a quick rundown of the events that have transpired.
Aleppo is a city in Syria and the capital of the Aleppo province. In 2011, Syria's Arab Spring protests in 2011 incited a civil war, and Aleppo became a primary base for rebel groups opposed to Syrian President Bashar al-Assad's rule. In the summer of 2015, the rebel presence in Aleppo became so powerful that President Assad began losing ground around the country. The fighting eventually split the city in two, with government soldiers controlling the west and rebel groups controlling the east.
In response to the advancement of the rebel forces in Syria, President Assad called for aid from Syria's two international patrons: Russia and Iran. Iran sent in paramilitary operatives elite soldiers from Hezbollah, Iran's Lebanon-based proxy, while Russia sent warplanes, attack helicopters, artillery pieces, and military advisers. In addition, the Obama administration was heavily pushed to take similar support measures but refused to do so.
This heavy support from Russia and Iran, in turn, allowed Assad's forces to overpower the rebels in Aleppo. In September 2015, Assad launched his fight to regain Aleppo and its surrounding areas, and by February 2016, Assad's forces had completely surrounded the city.
With victory in sight, President Assad acted as many feared he would, and began an all-out siege of the rebel-controlled eastern portion of Aleppo. These drastic efforts included imposing a blockade on rebel areas, with help from Iran, to cut off supplies to rebel militia. However, in doing this, Assad was also cutting off supplies to roughly 320,000 people. The rebels were able to break the siege briefly in late July only to have it reinstated in September. In addition to blockading rebel-held areas, Assad also launched attacks to destroy medical facilities within these areas, which led to the deaths of many doctors and nurses.
Although this type of siege is illegal under international law, Assad has continued to execute for years around Syria simply because it is indeed effective. By December 12 of this year, Assad's forces had retaken 90% of rebel holdings in Aleppo, according to the Syrian Observatory for Human Rights.
At the moment, there are few-to-no rebel-held areas still left, and the devastating effects of this fighting on both the city and its people are now out for the world to see. Many areas in the city are in such ruin that it would take decades to rebuild, and the estimated death toll is at about 440,000. In the midst of the fighting, many Syrian civilians had attempted to flee the country, and many continue to attempt to. However, evacuation efforts were halted by Assad, saying that rebels evacuating were not abiding by the evacuation rules.
For now, the fighting is over, but many say the Syrian civil war is still far from over. On social media platforms, images and videos of children covered in rubble and cared for in sub-quality medical facilities call for the hashtags #PrayforAleppo and #AleppoAwareness. What's to come regarding peace in the area is in the hands of Assad, and those involved with his regime.