Plane Crash in Colombia, Kills 71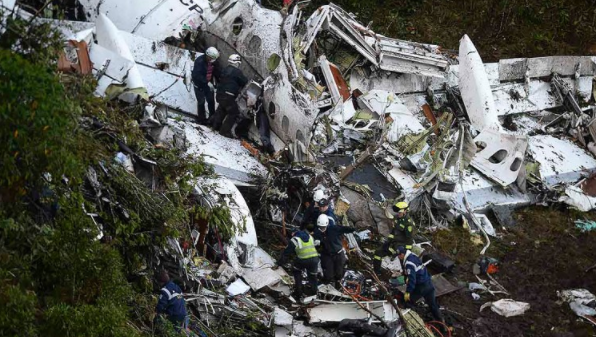 Hang on for a minute...we're trying to find some more stories you might like.
On November 28, the BAE146 Bolivia charter flight LAMIA 2933 carrying 77 people including players, coaches, journalists, and other invited guests of Chapecoense team crashed in the mountains of the Cerro El Gordo area of Colombia, just 8 miles before reaching its destination. The flight departed from Bolivia's Viru Viru airport and was en route to Medellin, Colombia. Of the 77 passengers, 71 died, including 19 players, and six were rushed to the hospital.
Of the six survivors were three of the Chapecoense players. Alan Ruschel, Hélio Neto and Jackson Follman were each rushed to the hospital severely injured. One of the survivors and a journalist traveling with the team, Rafael Valmorbida, is now in intensive care with multiple rib fractures. In contrast to the other four survivors, flight technician Erwin Tumiri and flight attendant Ximena Sanchez received only minor injuries from the crash.
It was around 10:15 p.m. local time when the plane declared an emergency as it flew between the municipalities of La Ceja and La union in Colombia. The pilot of the flight spoke, "The plane is in total electric failure and without fuel." While to many investigators the answer to why the plane crashed may seem obvious, it is still too early to make an official statement.
As for now, the countries of South America and the rest of the soccer world are in grief. The team had just won their semifinal match of the Copa Sudamericana, and were on their way to the finals.
In commemoration of the team, their inspiring rise among the ranks of Brazilian soccer, and the tragedy that prevented them from fulfilling their underdog victory, a remembrance was held for the victims of the crash at the Atanasio Girardot Stadium in Medellin, Colombia where the Chapecoense team was supposed to play Colombia's Atlético Nacional team for the final match of the Copa Sudamericana.
Later, the team was crowned the winner of the Copa Sudamericana 2016 by the South American Football Confederation (Conmebol), carried out on request of the opposing team who was awarded the Centennial Conmebol Fair Play award for their courageous action.
In addition, Brazil's leading soccer clubs have pledged to loan players to the Chapecoense team for free, and asked for them to be prevented from relegation from the top flight of their league for the next three seasons. Even legendary players such as Brazil's former forward Ronaldinho, ex-Argentina international Juan Roman Riquelme, and former Barcelona player Eidur Gudjohnsen have each offered their services to the team.
For now, the soccer world and South America are still in grief, but hopeful for the future with strong support from the community and from the world.
Photo Link: http://www.cnn.com/2016/11/29/americas/colombia-plane-accident/